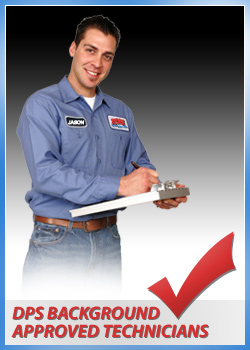 We thoroughly screen each and every service technician through the Texas Department of Public Safety ("D.P.S.") background check program and will not send anyone into your home that has ever been convicted of a felony or charged with a Class A or B misdemeanor in the past 10 years.
By screening every technician for the last 23 years, we help insure the safety of your home, family, friends, and loved ones. We highly recommend, before hiring any type of service-company, that you inquire and verify the person gaining access to your home and family is not a criminal.
For your added security Action Garage Door will walk you step by step through programming your remote controls. This will insure that you are the only one who has access to your garage and your home.
Use caution when allowing a technician from another company to program your remote controls. They could easily program an additional remote control to gain access to your home.